Back Office
Neck drowned in the sea of data, mails or orders? Don't know how to save precious man hours for your core business processes?
Let Hitechmind Solutions make it easy for you!
We cater to specific needs of our clients depending upon the industry and level they operate. No matter how complex your processes are, we make you free of all headaches of data, communication and order management.
At Hitechmind Solutions, we offer a complete suite of back office services, helping you manage data and other non-core tasks.
Our back office services include:
Data Entry
Customer Invoicing
Documents Management
Credit History Verification
Transaction Processing
Collections
Forms Collection
Aging Analysis
Customers' Accounts Maintenance
Data Reconciliation
Customers' Information Management
Performance Reporting
Billing
Database Conversions
Purchase Management
Data Aggregation
Data Management
Risk Analysis
Bad debt Management
Catalogue Management
Vendors' Database Management
General Administration
The Process of Partnering with Hitechmind Solutions Pvt Ltd
Stage 1: Analysis
We begin by getting in one-to-one discussion with a point person from your company to understand your business processes and management structure. We develop an operations manual simultaneously while assessing your needs and devising a customized solution.
Stage 2: Transition Schedule Blueprint
After formulating a customized plan for you, we present you with a detailed transition schedule consisting of timelines, process maps, resource allocation, training programs and associated costs.
Stage 3: Transition
As soon as we receive your approval, we begin doing work on a small scale. While the quality checks and auditing are done simultaneously, we ramp up the operations slowly to the planned/decided volume, ensuring a smooth transition.
Stage 4: Partnership
After your operations team is satisfied with the transition and our services, we continue with the process according to MSA and SOW guidelines and supply you with daily, weekly and monthly reports.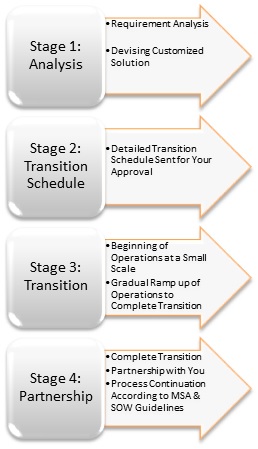 Benefits of Availing Our Back Office Services
Streamlined business processes
Enhanced resource skill utilization
Increased focus on core business activities
Higher accuracy
Reduced processing costs
Process automation
Reduced turnaround time
Fast and accurate services
Improved operational efficiency
Our expertise in handling back office processes will allow you to focus on your core functions and invest your precious men hours in new business development.